About Our Services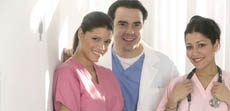 First Response specializes in providing pioneering vascular treatment with an efficient, patient centered approach.
Our experienced clinical staff are committed to providing a high quality care plan to each patient to accelerate recovery time and reduce the cost of treatment.
Testimonials

I did not feel a thing. I have had lines placed before and it was painful but not with the great staff at First Response.
Marta Healy

The nurse from First Response was very caring. She explained everything she was doing and put me at ease.
John Franklin

For Patients and Their Families
Safe and Pain-Free Alternatives
In addition to the efficient delivery of intravenous therapies, PICC lines when used correctly, reduce the pain and scarring of the small, delicate veins of the hands and arms typically associated with irritating intravenous infusions. For patients with compromised IV access or with a history of multiple IV attempts, PICC lines effectively eliminate the tissue damage and pain that can result from frequent or repeated punctures.
Versatility and Mobility
PICC lines can be used in a variety of settings, at home or in a hospital or skilled-care facility. They can be used for drawing blood, administering short-term chemotherapy or any other medications. The PICC line is inserted painlessly and it does not preclude any normal activities. In addition, it can remain in place for a year or longer.
Let our friendly staff take care of you!